Art Curriculum
Students attend a formal art class taught by an arts specialist twice per week. Students explore a variety of media including drawing, watercolors, clay, paper mache, printmaking, and enameling. Special projects may coincide with studies of world cultures and history.
Music Curriculum
The music curriculum is taught according to the Orff-Schulwerk Method and is aimed at producing musically literate students. This method teaches students to perform music, read music and understand music theory through singing, playing, chanting, and movement. The curriculum also incorporates the music of different cultures and the great music of western civilization. In addition, students learn about the history of our country through music and dance. The music room is equipped with over 30 barred instruments in addition to percussion instruments and ukuleles. Students in Grades 4 through 8 also learn to play the recorder.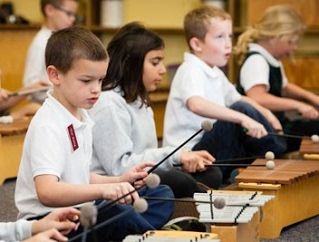 Theatrical Productions
For information on our theatrical productions, please look under the Drama Club section on our Activities page.